The Three Amigas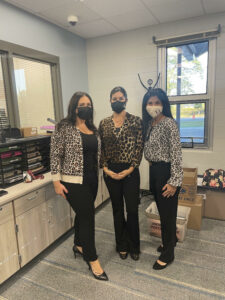 They call themselves "The Three Amigas" and they suffer no fools. They are the strong, confident leaders of Holmes Middle School: Liz Richards (principal), Julie Krueger (assistant principal) and Chrissy Wolff (dean of students). These women may have different leadership styles, but their goals are the same – to help students remain safe while they prepare for success in high school, college, career and life. 
"We have different styles, but our values and goals are the same," said Mrs. Richards. "We help each other out. We are honest with each other and supportive," said Mrs. Krueger. "We balance each other out," said Mrs. Wolff. Each with their own strengths, they work together as a team, using their combined assets to accomplish much each day. 
Mrs. Richards is the organized one. She is very task-oriented, fast moving, and has a no-nonsense style while holding everyone accountable. Her planner is something of brilliance. By calendering everything that needs to be done, the other women can see what's on the docket for that day. 
Mrs. Krueger is the calming voice of the trio. A former school psychologist, she is an even-keeled, calming influence who works well with groups of children. Nothing rattles her while she thoroughly processes each situation before reacting.
Mrs. Wolff works well with families as she's been in the district the longest at 26 years. She speaks Spanish and has worked with several generations of families. She knows the community and often talks to the parents of students who were, in fact, students of hers years ago. 
What they all have in common is their contributory and hard working style. "No one does things half-way," said Mrs. Richards. "We all work hard and when we need a break, we help one another out." If one isn't making progress with a student or parent, she will ask the others to assist or use a different approach.  "It's a technique that works well for us;  we rely on each other's strengths," said Ms. Wolff. "Sometimes, kids tend to mix us up," said Mrs. Wolff. With their long, brown hair, it's easy to mistake one for the other. It might also be because they tend to dress alike. It started purely as an accident one day but seems to happen more often than not. One might say they are truly in tune with one another. And that's a harmonious environment we can all appreciate.