What's Going on at Tarkington?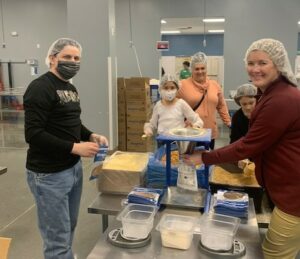 The Tarkington Tigers student body has been busy with a variety of service projects throughout the year. Teachers Rebecca Zach, Amanda Collett and Ryann Rivers have spent their lunch hours facilitating charitable projects for the students, who call their club "Helping Paws." Helping Paws started in 2008 and currently has 60 3rd, 4th and 5th graders volunteering their time to improve their surroundings. The group recently collected 69,685 pop tabs to support Ronald McDonald House! Wow! That's a lot of soda!
Please support Helping Paws with these upcoming service projects. Details to come.
December 13, 2022

(4:30 – 6:00 pm) – Volunteer at Feed My Starving Children.

January 26, 2023 – The Cardboard Challenge. A night of fun and raising money for the Tarkington NEU Scholarship.
February 2023

– Valentine's Day wreaths, made by students, will be donated to Lutheran Home in Arlington Heights.

Date TBD

– Students and their families have a volunteer opportunity at Bernie's Book Bank.
"Our students are wonderful volunteers of the community and undertaking these initiatives teaches them the importance of stewardship," said Asst. Principal Jillian Dorn.