My Why
CCSD21 features a staff member each month, highlighting their background and their "Why." We hope this feature will help you get to know our staff members better and relate to their passion for being part of the D21 family.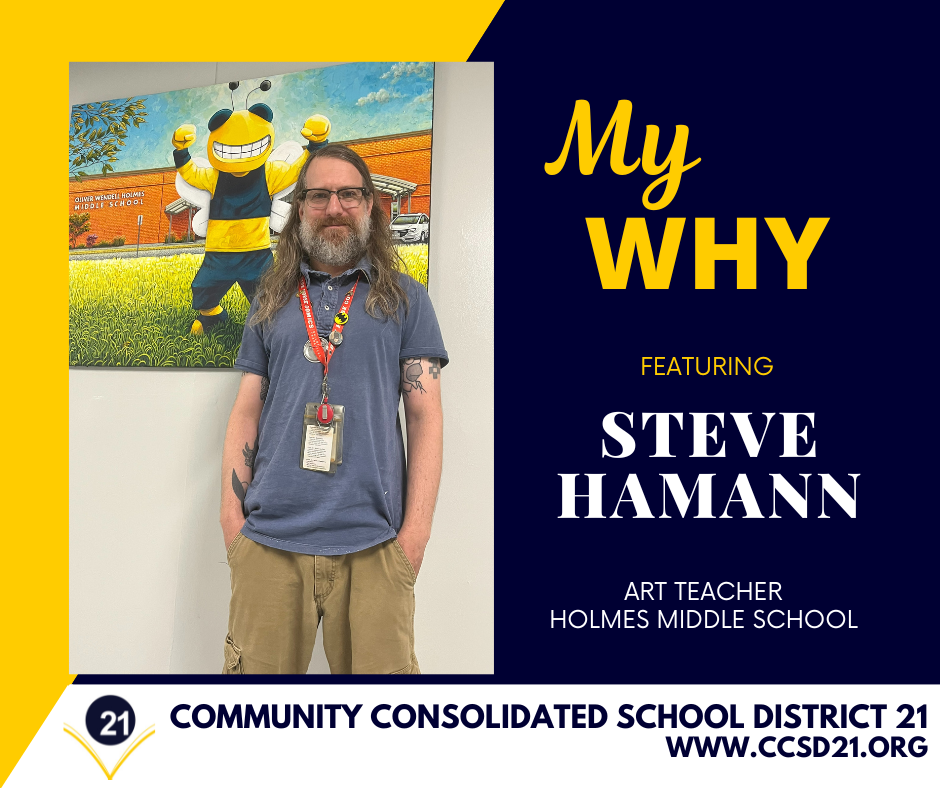 STEVE HAMANN, MIDDLE SCHOOL ART TEACHER
There's a serene, Zen-like quality to Steve Hamann. When you meet him, he's relaxed – his clothes, his hair, his manner. Even his classroom is calming. He plays soft music and sometimes dims the lights for a tranquil atmosphere. "I like to keep my classroom in a calm state. It helps students become better thinkers and allows them to be more creative," says Steve, Holmes Middle School art teacher. Read entire article.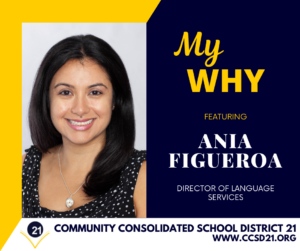 ANIA FIGUEROA, DIRECTOR LANGUAGE SERVICES
You might be surprised to learn that 52% of Community Consolidated School District 21 (CCSD21) students are considered "ELs" or English Language Learners, meaning students' main language spoken at home is something other than English. Ania Figueroa is not surprised. She is the new Director of Language Services for CCSD21 and someone who knows first-hand the need for support these students require during the school year. Read entire article.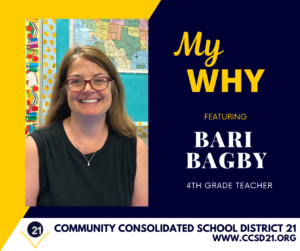 Friends and family members of Bari Bagby would say she is full of adventure. She has traveled the world, documenting her experiences with photos, itineraries, journals, lists of things to see and even better places to eat. She loves to share her knowledge of globetrotting to help others see the world as she does. Read entire article.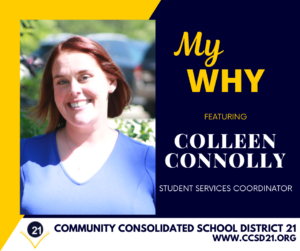 COLLEEN CONNOLLY, STUDENT SERVICES COORDINATOR
When you meet Colleen Connolly, you are immediately struck by her enthusiasm and energy for the work she does. She is a smiley, bundle of joy with an amusing sense of humor. As a student services coordinator, her wit comes in handy when dealing with students with behavior needs as it's not always easy when children are in crisis. Read entire article.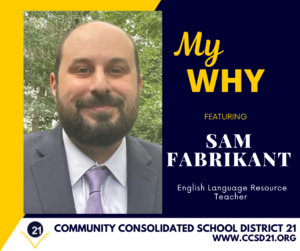 SAM FABRIKANT, ENGLISH LANGUAGE RESOURCE TEACHER
As an alumnus of Longfellow and Cooper, it's no surprise that Sam Fabrikant is back in the district, this time working as a teacher. "It's home," Sam says. "It's where I had a fantastic experience on every level and I wanted to give that same experience to others." It's also a family tradition. Read entire article.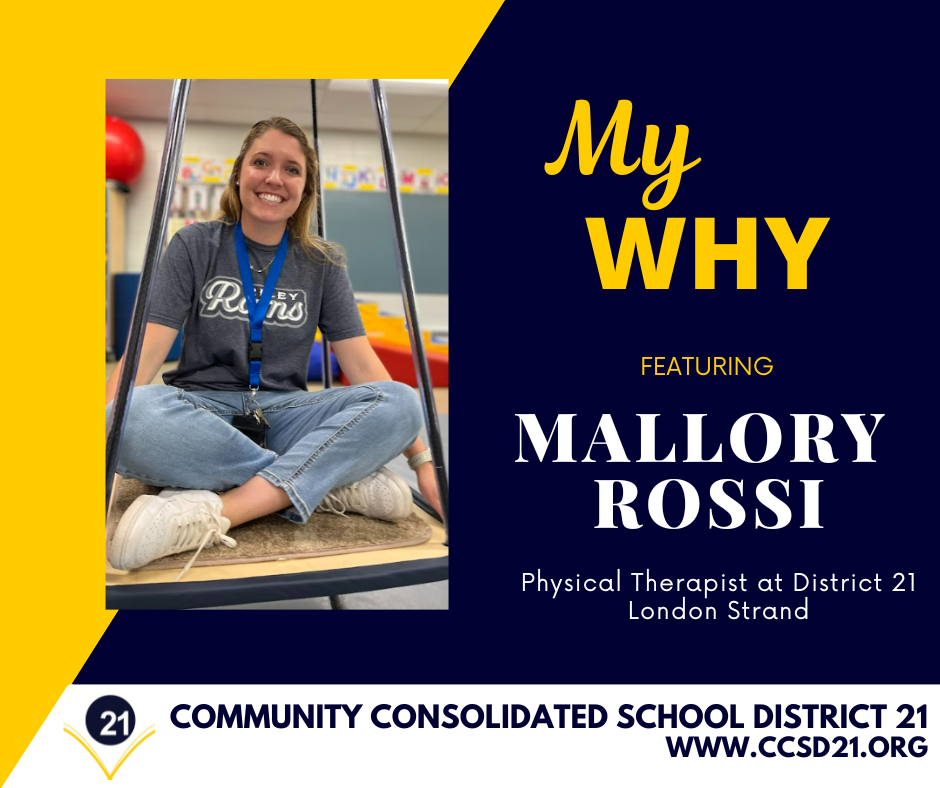 MALLORY ROSSI, PHYSICAL THERAPIST IN LONDON STRAND
District 21's physical therapist Mallory Rossi talks fast, walks fast and moves fast. She also has a "no excuses" attitude. So when she tore her ACL as a junior basketball player at St. Viator H.S. and spent nine months in physical therapy, it slowed… her… down…which she didn't like. Read entire article.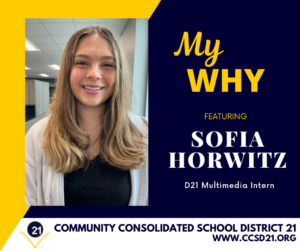 SOFIA HORWITZ, COMMUNICATIONS INTERN
In the future, I hope to find a career that allows me to do many different things within communications but especially with graphic design. I would love to advertise and create products for big companies that I admire. A dream of mine would be to take part in a project that works with a charity organization and be able to make something that helps a group I'm passionate about. Read entire article.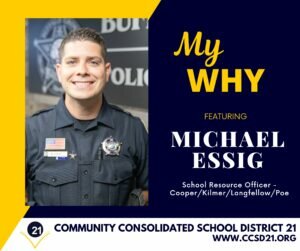 OFFICER MICHAEL ESSIG, SRO FOR COOPER, KILMER, LONGFELLOW AND POE
Michael Essig does not have a New Jersey accent, despite originally hailing from the Garden State, as he and his family moved to Illinois when he was quite young. "I still have many relatives who have an accent and it's rather entertaining to have those conversations with them where you get to hear it all the time," said Essig, who will start as the school resource officer for Cooper Middle School and Kilmer, Longfellow and Poe Elementary Schools as the 2023-24 school year gets underway. Read entire article.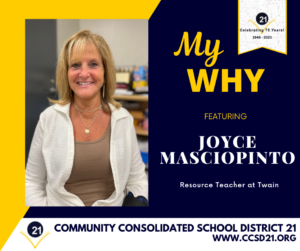 JOYCE MASCIOPINTO, RESOURCE TEACER AT TWAIN ELEMENTARY SCHOOL
It's no surprise that Joyce Masciopinto only takes in rescue dogs. "I have a tendency to care for animals I find that have been abandoned by their mothers," she states. "I have also sheltered birds, bunnies and even a baby squirrel." As for humans, Masciopinto always felt empathy for others. "I don't like it when others feel sad, undervalued, unheard, unwelcome, frustrated or are overwhelmed by their emotions. I am not sure why, probably a result of my upbringing, but I always wanted to help people so I studied nursing at Northern Illinois University and then switched to special education after two years," she added. Read entire article.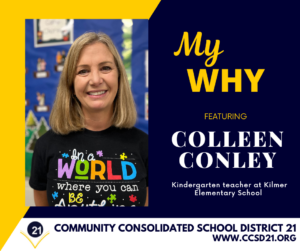 COLLEEN CONLEY KINDERGARTEN TEACHER AT KILMER ELEMENTARY SCHOOL
"I love that every class is unique and special in their own way. Each class feels like a family to me that has private moments that only we share," said Colleen Conley, kindergarten teacher at Kilmer Elementary School. Conley has been creating these memories as a teacher for 17 years, but her time in District 21 actually began as a parent. "My own children went to Kilmer and I was very involved in the PTO and helping in their classes. I had been a writer and editor for the Allstate Corporation. I took some time off to raise my kids and didn't want to go back to corporate work," Conley says. Read entire article.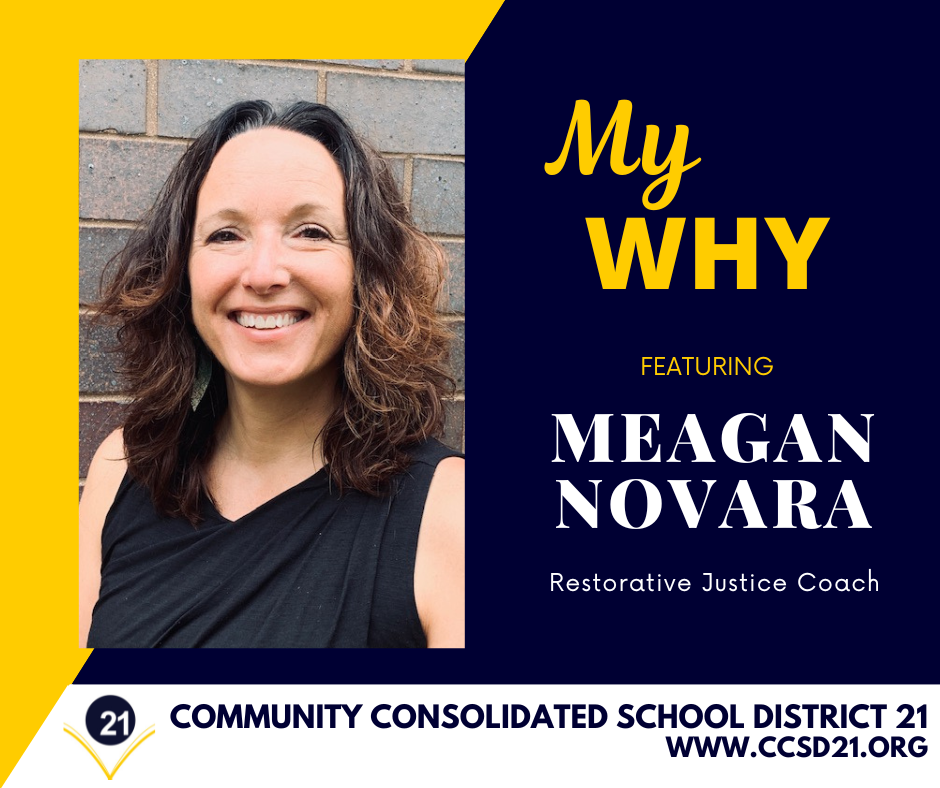 MEAGAN NOVARA, RESTORATIVE PRACTICE COACH
As an Italian woman who loves to cook, one of Meagan Novara's favorite things to do is have a big, crowded house with lots of people eating good food. Large gatherings are not a problem for Meagan as she is a Restorative Practice Coach for District 21 and trained on strengthening relationships and building positive cultures. Read entire article.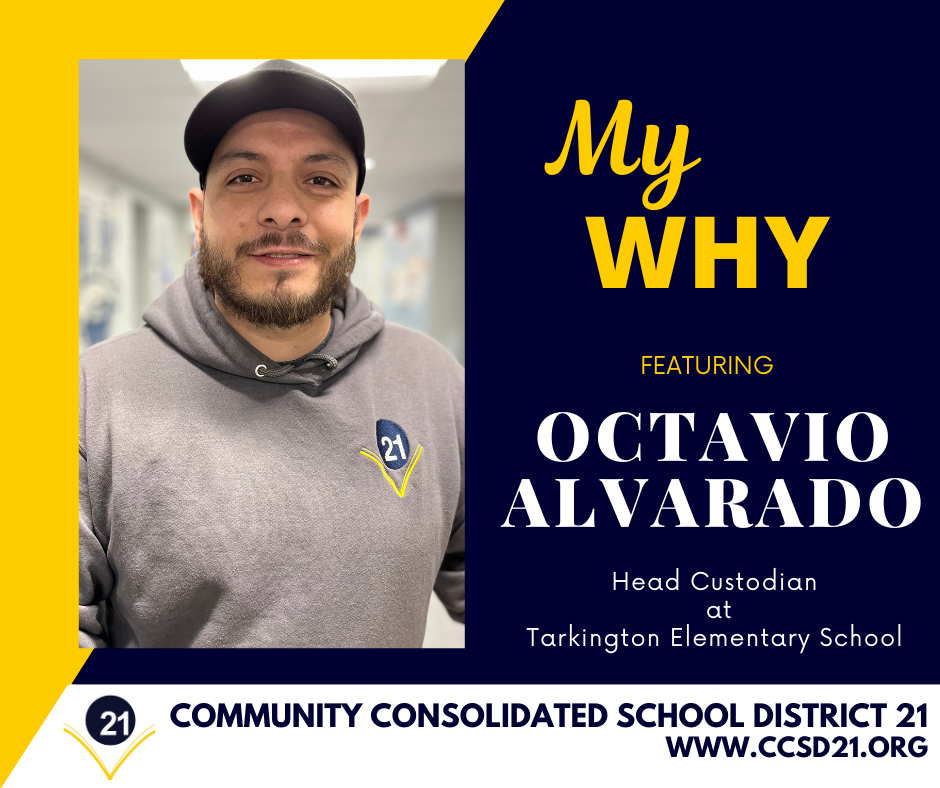 OCTAVIO ALVARADO, HEAD CUSTODIAN AT TARKINGTON ELEMENTARY SCHOOL
You'd be surprised to know that Octavio Alvarado, head custodian at Tarkington Elementary School, is afraid of heights… as he has to climb ladders, paint classrooms and ascend to the roof of the school to fix, clean and maintain the building. But the fear of heights doesn't stop this industrious employee from doing what needs to be done. Read entire article.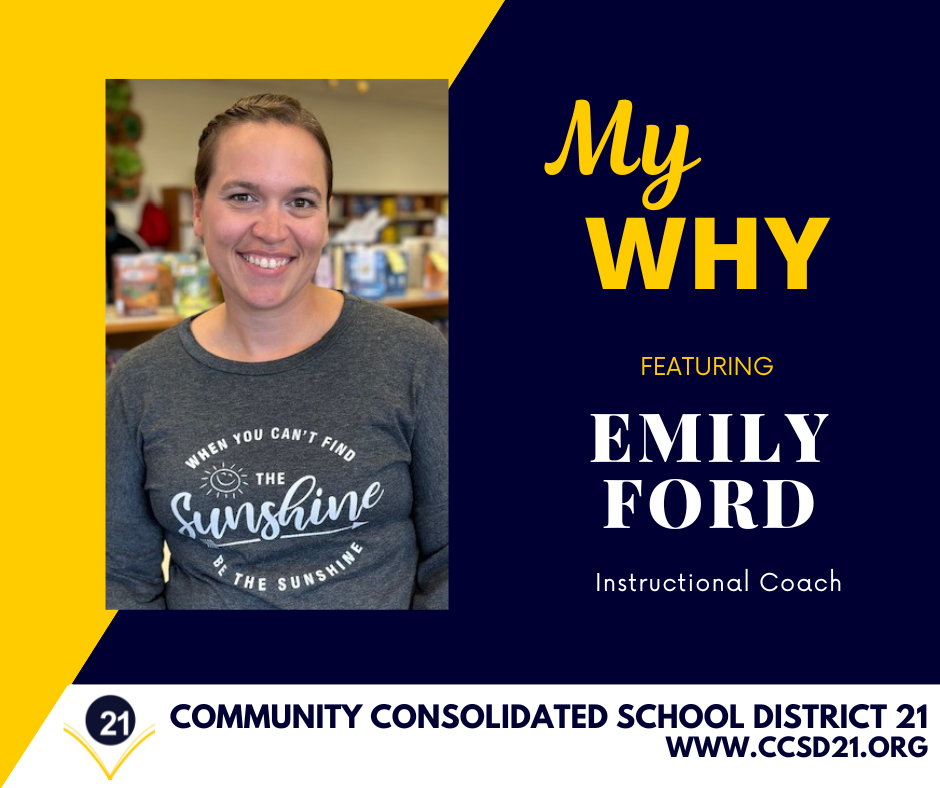 EMILY FORD, INSTRUCTIONAL COACH
A challenging math class in 6th grade and a teacher who spent the time working with Emily Ford sent her on a path to become a teacher. As with many who go into education as a profession, it takes a favorite teacher and a transformative experience to change perspective. Read entire article.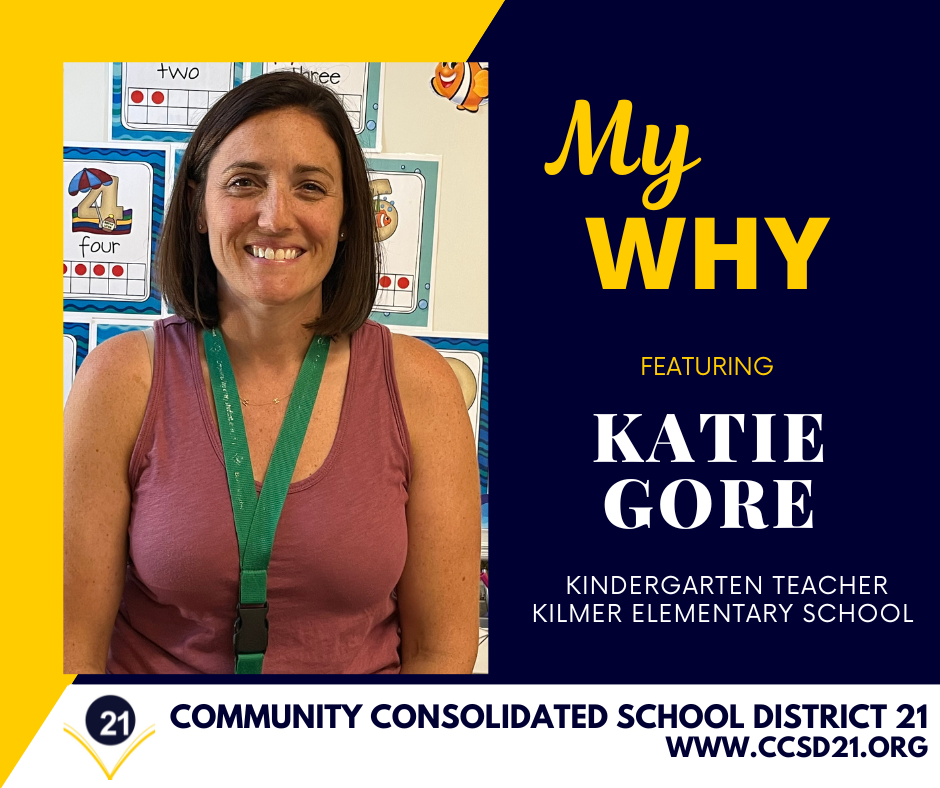 KATIE GORE, KINDERGARTEN TEACHER AT KILMER ELEMENTARY SCHOOL
Kilmer teacher Katie Gore learned a lot from her parents. "My dad worked in sales but didn't really care for his job. It was a way to make a living and support the family," Katie says. "My mom was a math teacher at Wheeling H.S. for over 30 years and LOVED her job. In fact, she had a passion for it." Read entire article.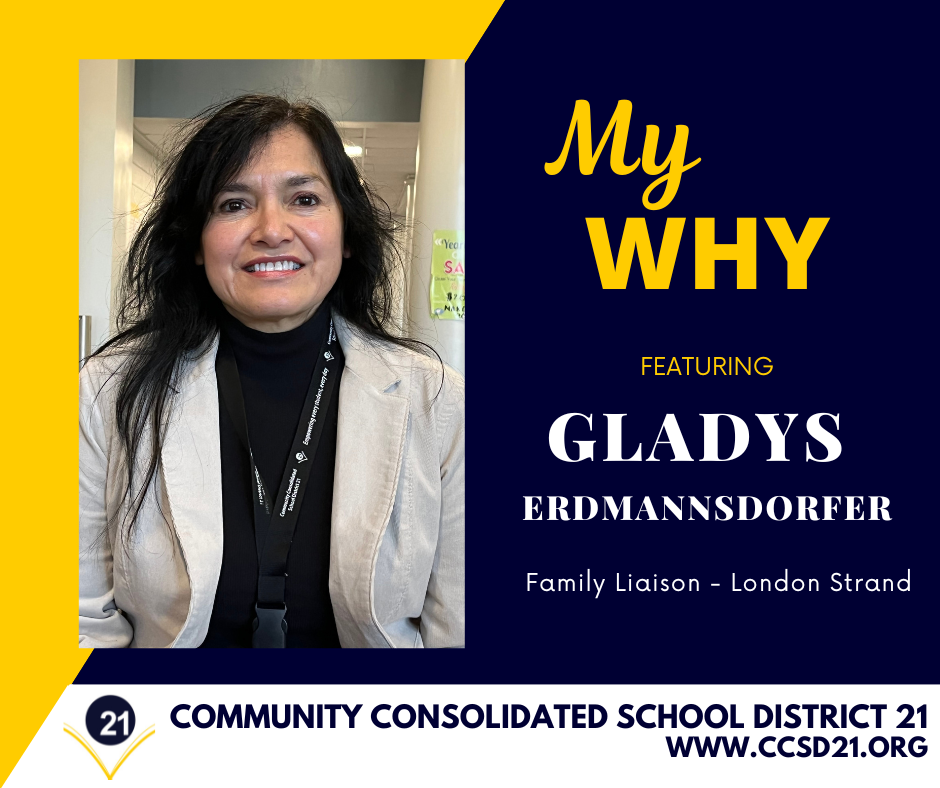 GLADYS ERDMANNSDORFER, FAMILY LIAISON – LONDON STRAND
As a young girl living in Peru, Gladys Erdmannsdorfer's mother took godchildren into her home who were in need, helping them with groceries, babysitting, transporting their children to school, or whatever else she could do to assist. Gladys never forgot those kind and generous gestures. Read entire article.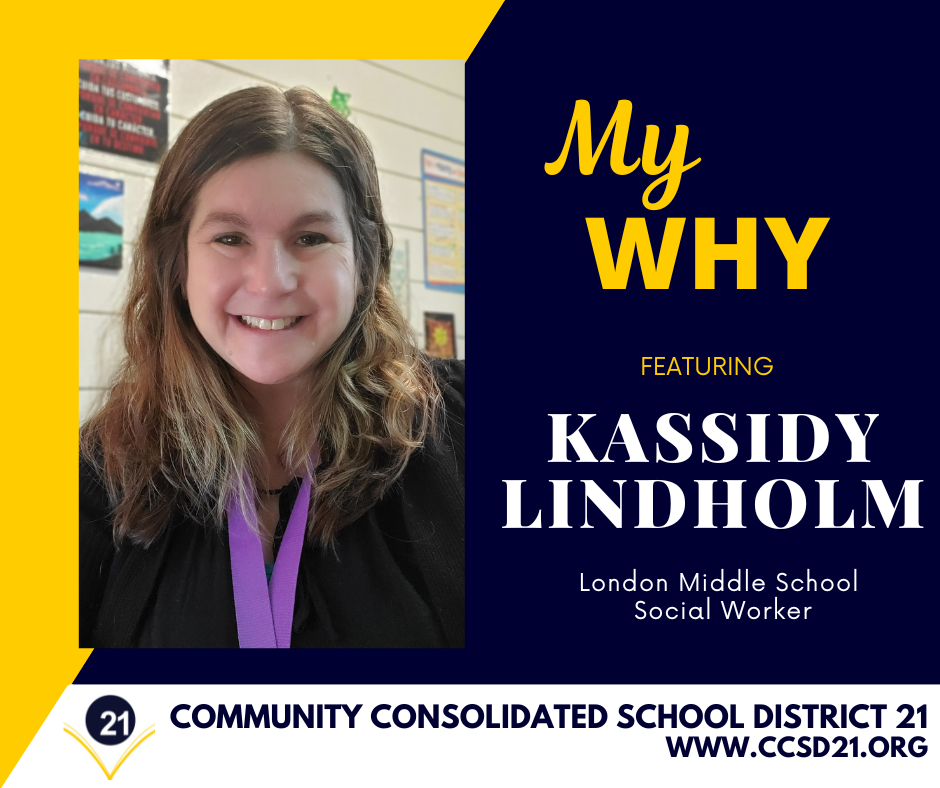 KASSIDY LINDHOLM, SOCIAL WORKER AT LONDON MIDDLE SCHOOL
Kassidy Lindholm loves to travel. In fact, she lived in Ecuador for two years after college. "I love to go to places that are very different from mine to see beyond my own life. It helps me understand others better," said Kassidy. Among her favorite places are India, Turkey and most of South and Central America. Read entire article.
Gabe Gyorgy is a custodian at Frost Elementary School whose booming and positive personality lights up the halls. His job keeps him going as he loves working with kids. He is also a part of the neighborhood, making him truly included in the community inside and outside of school. Read entire article.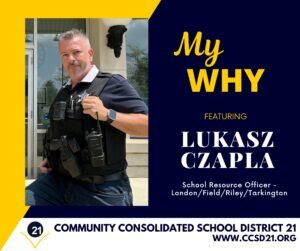 OFFICER LUKASZ CZAPLA, SRO FOR LONDON, FIELD, RILEY AND TARKINGTON
A move from Poland to the U.S. when Lukasz Czapla was 14 years old was the impetus for helping other students navigate the school environment. He and his family landed in LaSalle-Peru, Illinois where he didn't know a word of English. Help from a teacher who knew German and was married to a Polish woman helped Czapla slowly learn the language – that and watching the TV show Mr. Rogers Neighborhood. Another move to the northwest suburbs and graduation from Schaumburg H.S. led him to study criminal justice at Harper College. Read entire article.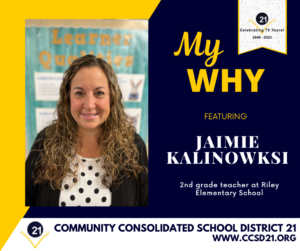 JAIMIE KALINOWSKI 2ND GRADE GENERAL EDUCATION TEACHER AT RILEY ELEMENTARY SCHOOL
You might think it strange that Jaimie Kalinowski keeps nuts and seeds in her car. But this nature lover feeds the squirrels, birds, chipmunks and whatever wildlife comes her way each day. She even greets squirrels in the Riley Elementary School parking lot prior to morning classes and many days after school to give them a treat. Read entire article.
Sarah Mendoza gets to experience a glimpse into the life of her students that most teachers don't see. She delights in being part of the connections that her students make at school. Sarah is a special education teacher in the Educational Life Skills Program at Riley Elementary School  where she helps students with both academic and functional life skills. Read entire article.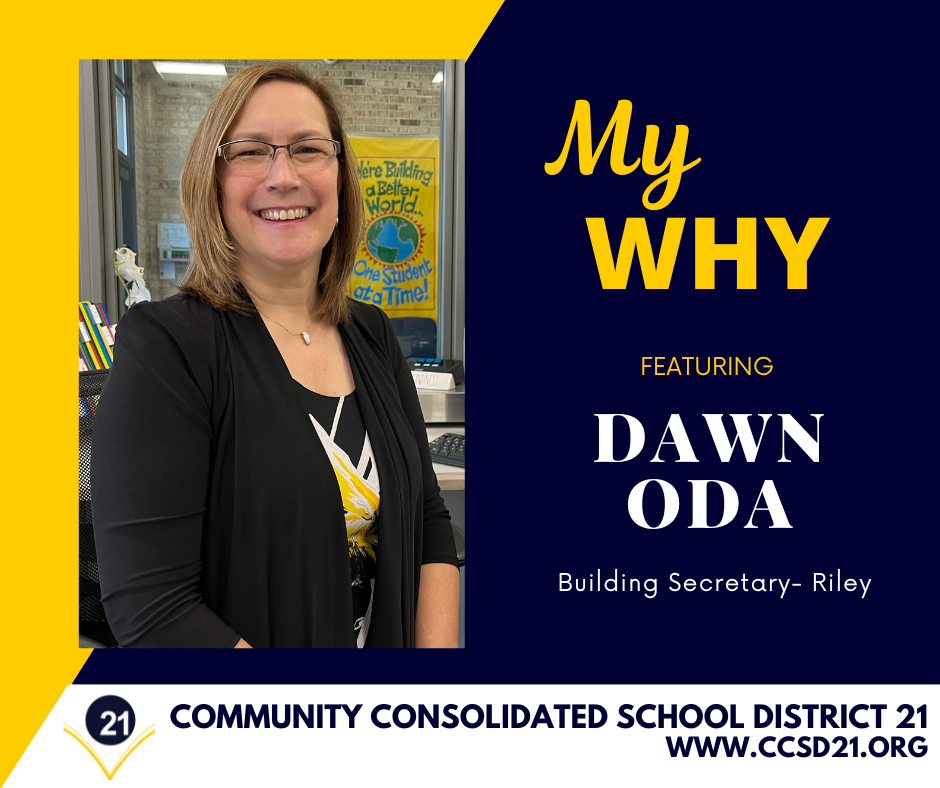 DAWN ODA, BUILDING SECRETARY AT RILEY
Dawn Oda is the first face you see when entering Riley Elementary School. She is smiley and bubbly. As the baby of a large family, Dawn had to learn to get along with others. In fact, this extrovert is the youngest of eight girls and one boy growing up in Chicago. Running around in the city with her family and friends set her up nicely for her job as the office secretary at Riley. Read entire article.   
MADELINE BENNETT, SCHOOL NURSE AT KILMER
It's no surprise that Madeline Bennett turned out to be a nurse. She is the oldest of five  daughters and was the caretaker to her younger sisters. She spent a lot of her youth looking after her siblings, playing the role of mom. But Madeline also spent lots of time in the hospital, missing days of school because of severe asthma and peanut allergies. Read entire article.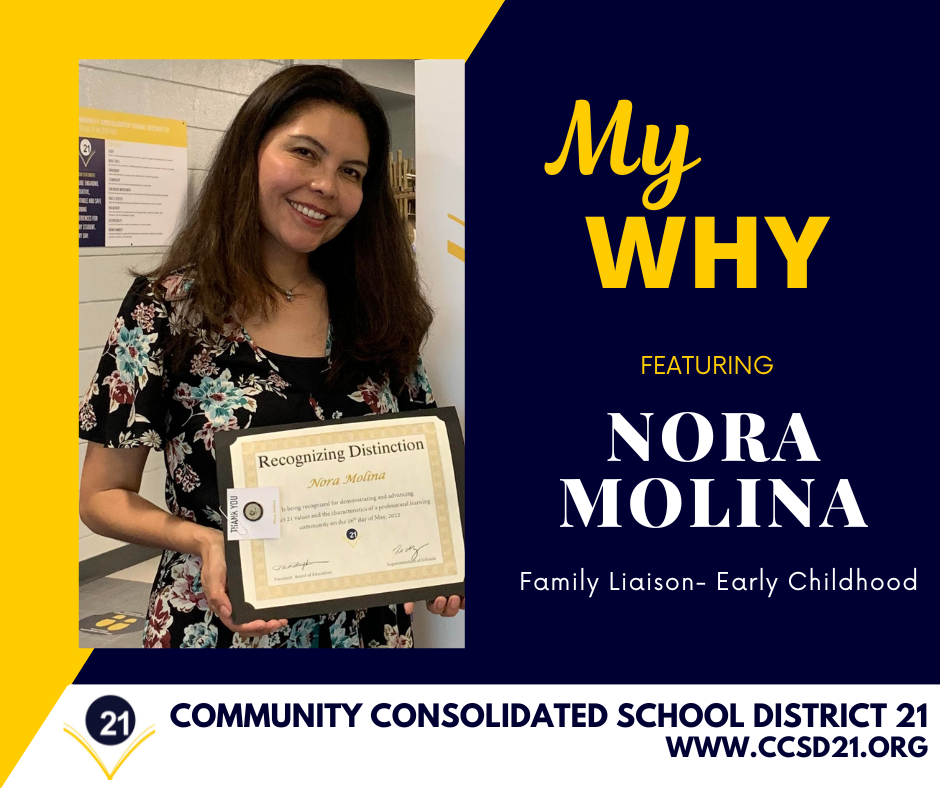 NORA MOLINA, FAMILY LIAISION FOR EARLY CHILDHOOD
Nora Molina, the family liaison for pre-kindergarten students in CCSD21, has a passion for helping people, education and traveling. She is enthusiastic and free-spirited; but her life started out in a very conservative way. She attended a strict Catholic all-girls school in Mexico City. It was a traditional institution where you didn't dream of questioning the nuns. Read entire article.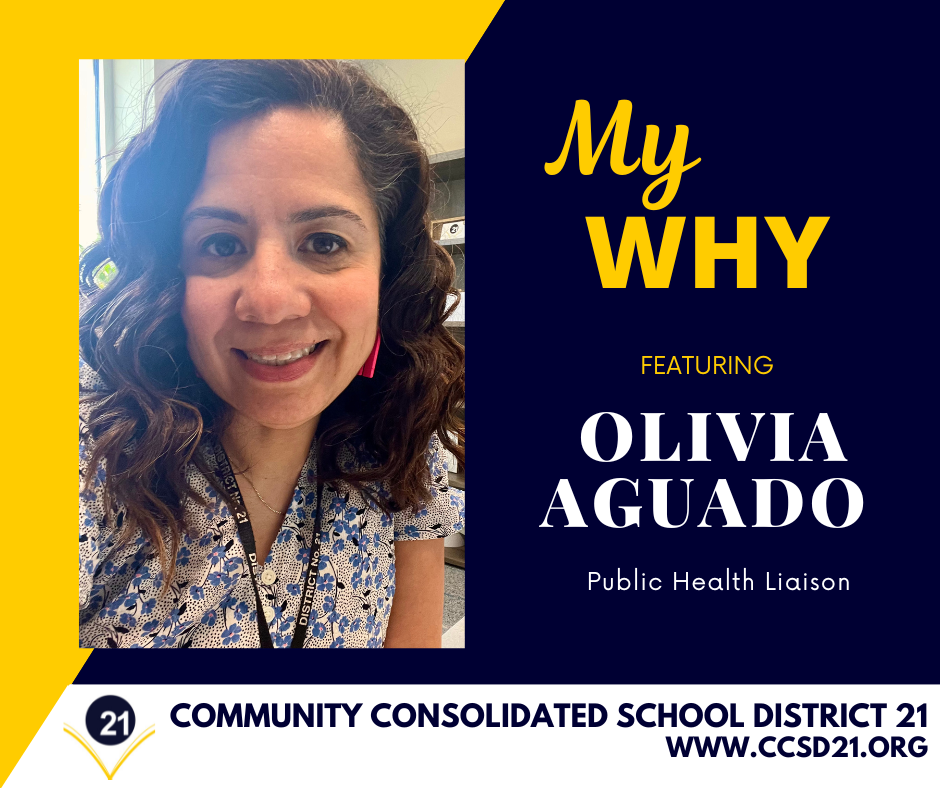 OLIVIA AGUADO, PUBLIC HEALTH LIAISON
When the AIDS epidemic was in full force, Olivia Aguado was a student at Wheeling High School and asked her counselor if she could do something to educate her peers on this deadly virus. The counselor consented and Olivia put on several informational presentations for her classmates. Read entire article.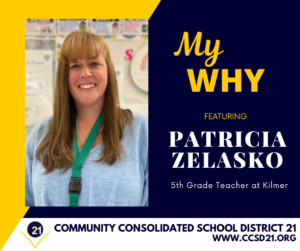 PATRICIA ZELASKO, FIRTH GRADE TEACHER
For as long as Patricia Zelasko can remember, she wanted to be a teacher. As an alumna of Whitman Elementary and Holmes Middle Schools, Patricia – like many others –  dreamed of coming back to the district that raised her to help the next generation of students. It's not just meaningful for her… it's essential. It's her purpose. "I want to help create good humans. Read entire article.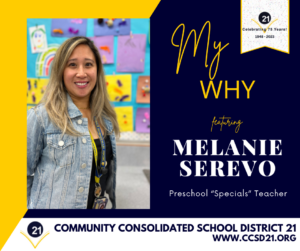 MELANIE SEREVO, PRESCHOOL "SPECIALS" TEACHER AT TARKINGTON AND HAWTHORNE
Melanie Serevo became a teacher after she experienced first-hand the impact that teachers had on her and she wanted to give that same sense of success to other students who were struggling.  Read entire article.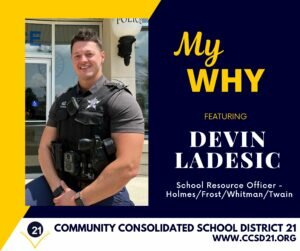 OFFICER DEVIN LADESIC, SRO FOR HOLMES, FROST, TWAIN AND WHITMAN
For someone who describes himself as a closet nerd, Wheeling Police Officer Devin Ladesic is far from it. Raised by a single mother, Ladesic attended Whitman Elementary and Holmes Middle Schools. He exudes a youthful, fun spirit that will serve him well as the new School Resource Officer (SRO) for the Holmes Middle School strand (which includes Twain, Whitman and Frost Elementary Schools). "I wanted to give back to the community and be a role model for other kids as I didn't have a father figure in my life," said Ladesic. Read entire article.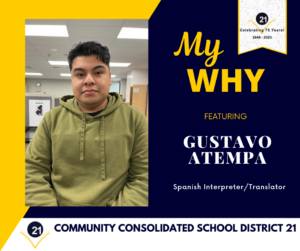 GUSTAVO ATEMPA SPANISH INTERPRETER/TRANSLATOR
Since Gustavo Atempa was in the second grade, he's been interpreting. English to Spanish and Spanish to English. Starting with his parents who immigrated from Mexico, Gustavo helped them fill out government and medical forms. He didn't want them to struggle with complicated questionnaires and hoped to relieve their stress of not fully comprehending a new language. The relief on their faces when Gustavo translated is the same expression of relief he sees on parents' faces in our district when he helps interpret IEPs (Individualized Education Plan) or 504 plans. Read entire article.