My Why
CCSD21 features a staff member each month, highlighting their background and their "Why." We hope this feature will help you get to know our staff members better and relate to their passion for being part of the D21 family.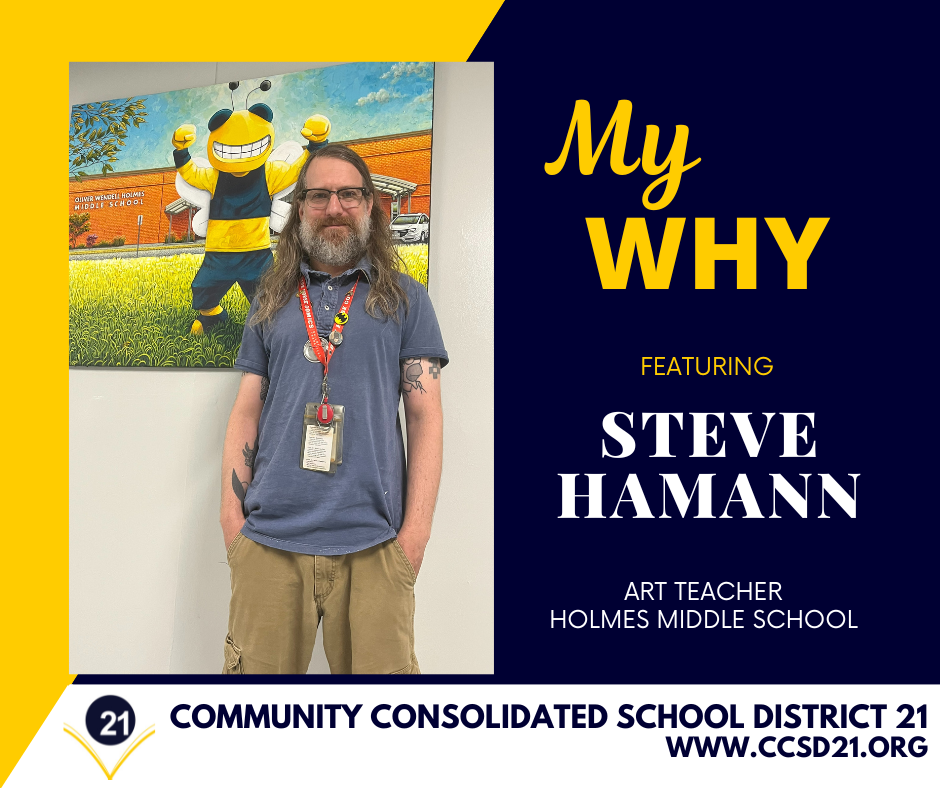 STEVE HAMANN, MIDDLE SCHOOL ART TEACHER
There's a serene, Zen-like quality to Steve Hamann. When you meet him, he's relaxed – his clothes, his hair, his manner. Even his classroom is calming. He plays soft music and sometimes dims the lights for a tranquil atmosphere. "I like to keep my classroom in a calm state. It helps students become better thinkers and allows them to be more creative," says Steve, Holmes Middle School art teacher. Read entire article.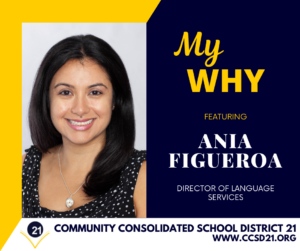 ANIA FIGUEROA, DIRECTOR LANGUAGE SERVICES
You might be surprised to learn that 52% of Community Consolidated School District 21 (CCSD21) students are considered "ELs" or English Language Learners, meaning students' main language spoken at home is something other than English. Ania Figueroa is not surprised. She is the new Director of Language Services for CCSD21 and someone who knows first-hand the need for support these students require during the school year. Read entire article.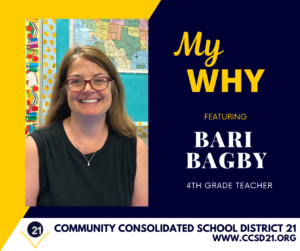 Friends and family members of Bari Bagby would say she is full of adventure. She has traveled the world, documenting her experiences with photos, itineraries, journals, lists of things to see and even better places to eat. She loves to share her knowledge of globetrotting to help others see the world as she does. Read entire article.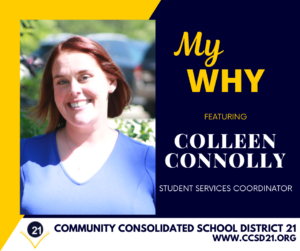 COLLEEN CONNOLLY, STUDENT SERVICES COORDINATOR
When you meet Colleen Connolly, you are immediately struck by her enthusiasm and energy for the work she does. She is a smiley, bundle of joy with an amusing sense of humor. As a student services coordinator, her wit comes in handy when dealing with students with behavior needs as it's not always easy when children are in crisis. Read entire article.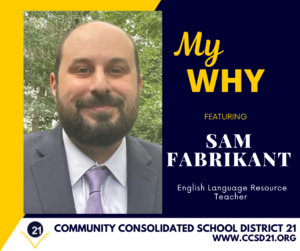 SAM FABRIKANT, ENGLISH LANGUAGE RESOURCE TEACHER
As an alumnus of Longfellow and Cooper, it's no surprise that Sam Fabrikant is back in the district, this time working as a teacher. "It's home," Sam says. "It's where I had a fantastic experience on every level and I wanted to give that same experience to others." It's also a family tradition. Read entire article.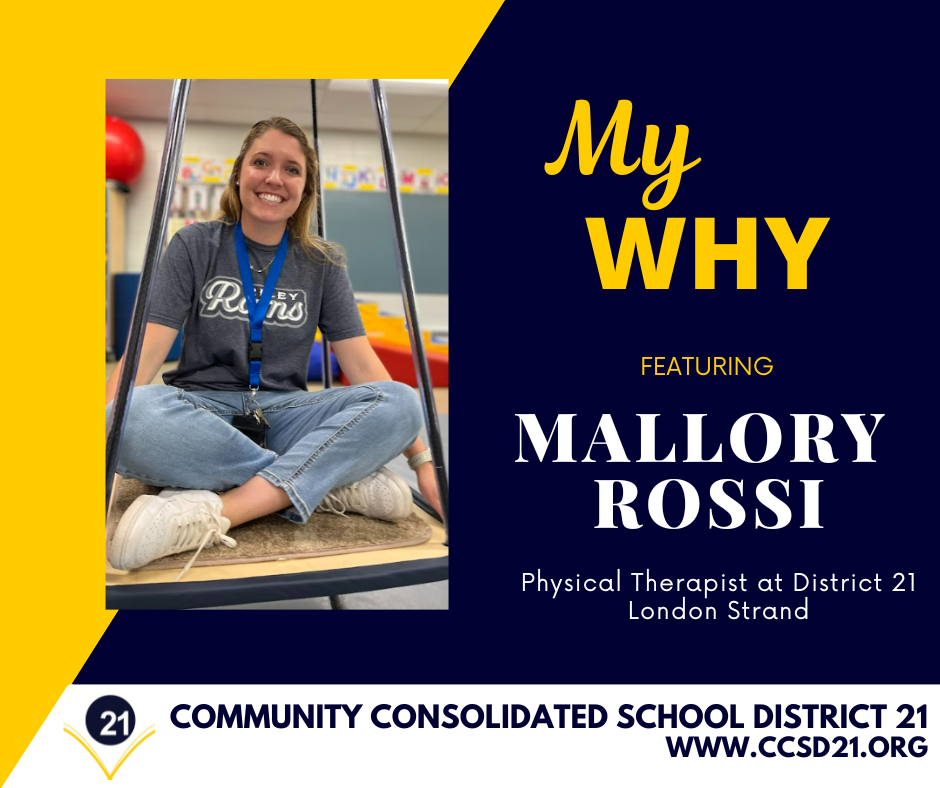 MALLORY ROSSI, PHYSICAL THERAPIST IN LONDON STRAND
District 21's physical therapist Mallory Rossi talks fast, walks fast and moves fast. She also has a "no excuses" attitude. So when she tore her ACL as a junior basketball player at St. Viator H.S. and spent nine months in physical therapy, it slowed… her… down…which she didn't like. Read entire article.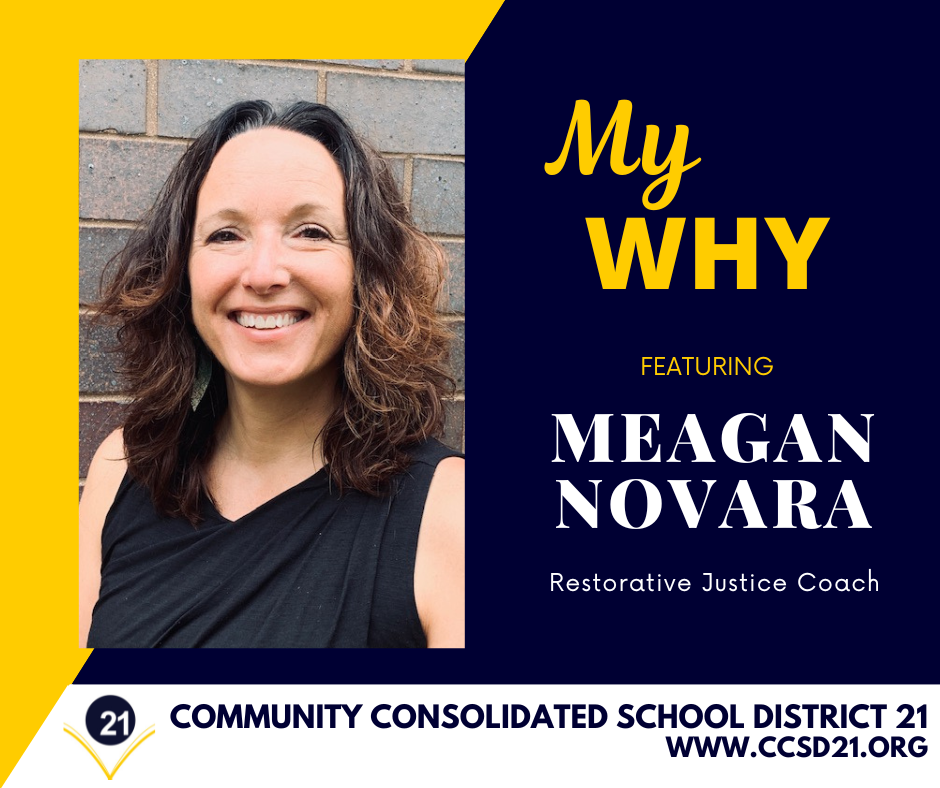 MEAGAN NOVARA, RESTORATIVE PRACTICE COACH
As an Italian woman who loves to cook, one of Meagan Novara's favorite things to do is have a big, crowded house with lots of people eating good food. Large gatherings are not a problem for Meagan as she is a Restorative Practice Coach for District 21 and trained on strengthening relationships and building positive cultures. Read entire article.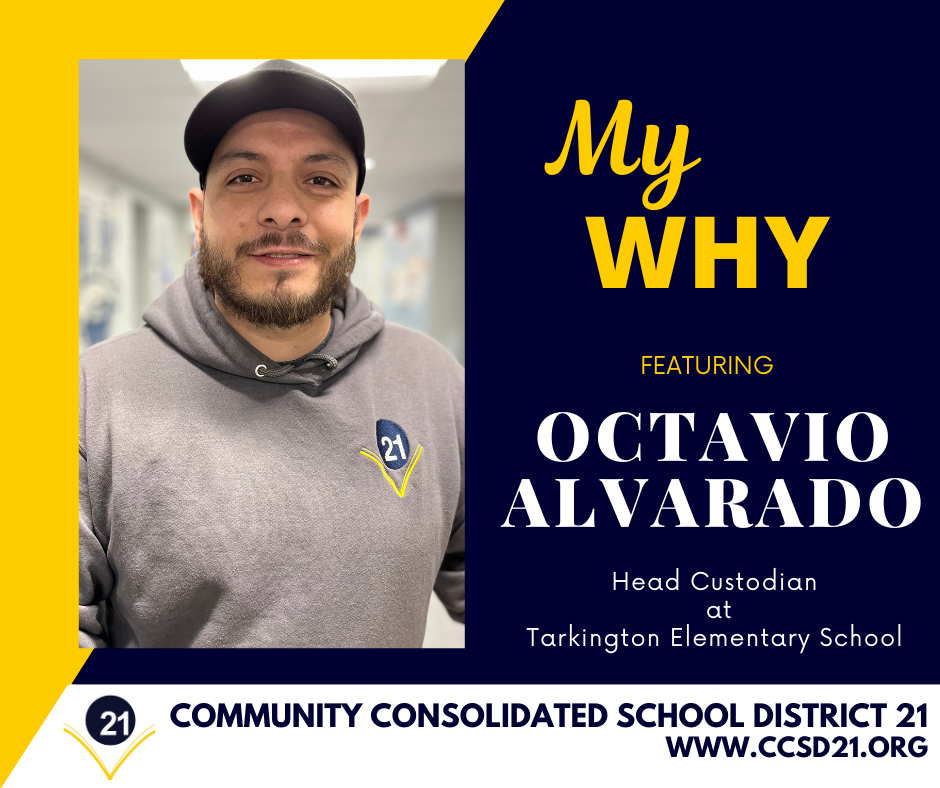 OCTAVIO ALVARADO, HEAD CUSTODIAN AT TARKINGTON ELEMENTARY SCHOOL
You'd be surprised to know that Octavio Alvarado, head custodian at Tarkington Elementary School, is afraid of heights… as he has to climb ladders, paint classrooms and ascend to the roof of the school to fix, clean and maintain the building. But the fear of heights doesn't stop this industrious employee from doing what needs to be done. Read entire article.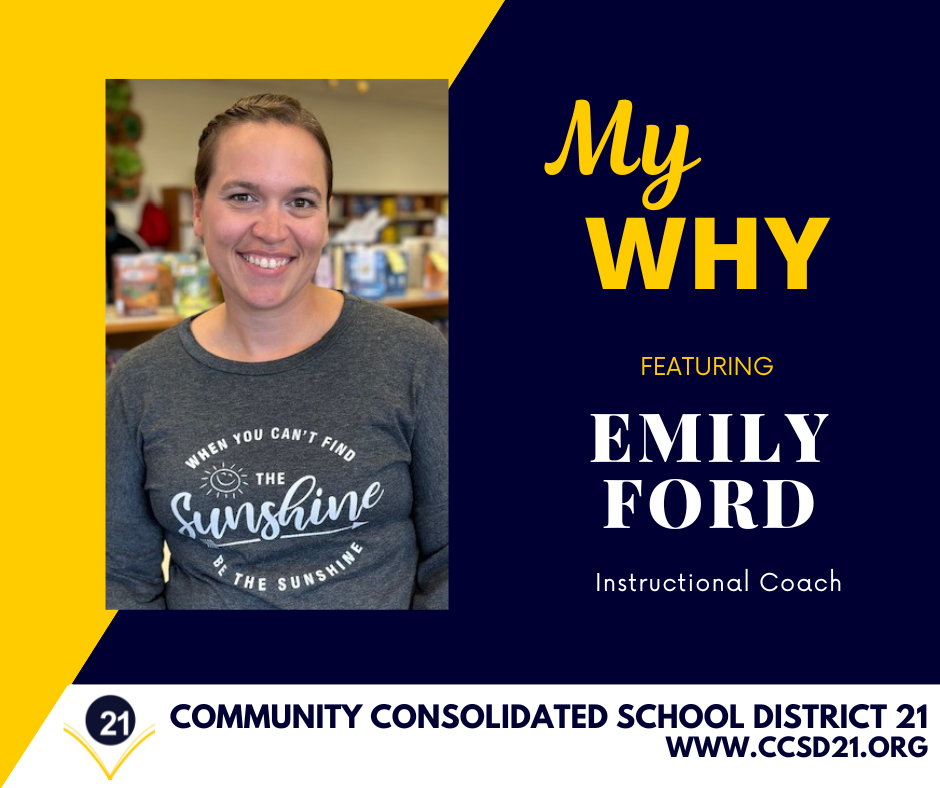 EMILY FORD, INSTRUCTIONAL COACH
A challenging math class in 6th grade and a teacher who spent the time working with Emily Ford sent her on a path to become a teacher. As with many who go into education as a profession, it takes a favorite teacher and a transformative experience to change perspective. Read entire article.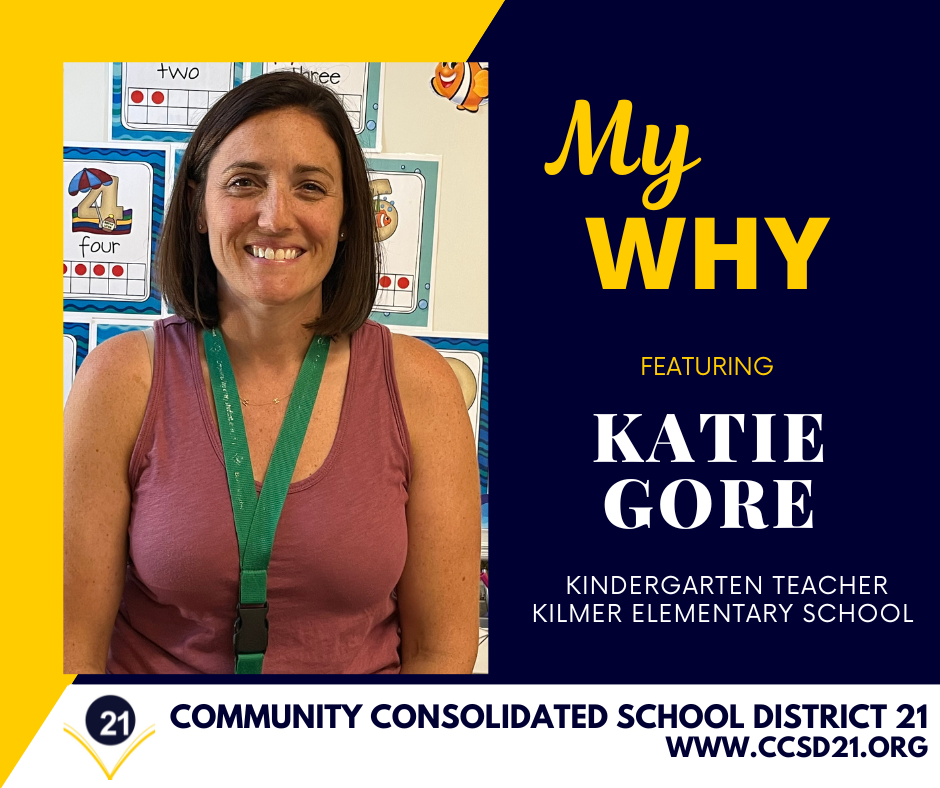 KATIE GORE, KINDERGARTEN TEACHER AT KILMER ELEMENTARY SCHOOL
Kilmer teacher Katie Gore learned a lot from her parents. "My dad worked in sales but didn't really care for his job. It was a way to make a living and support the family," Katie says. "My mom was a math teacher at Wheeling H.S. for over 30 years and LOVED her job. In fact, she had a passion for it." Read entire article.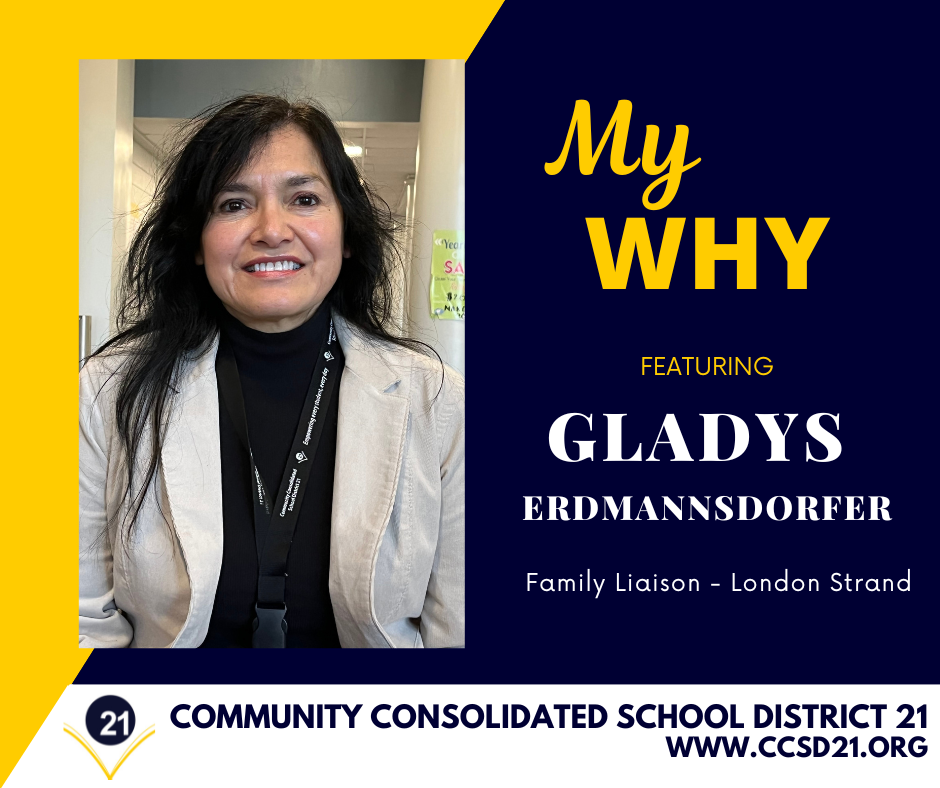 GLADYS ERDMANNSDORFER, FAMILY LIAISON – LONDON STRAND
As a young girl living in Peru, Gladys Erdmannsdorfer's mother took godchildren into her home who were in need, helping them with groceries, babysitting, transporting their children to school, or whatever else she could do to assist. Gladys never forgot those kind and generous gestures. Read entire article.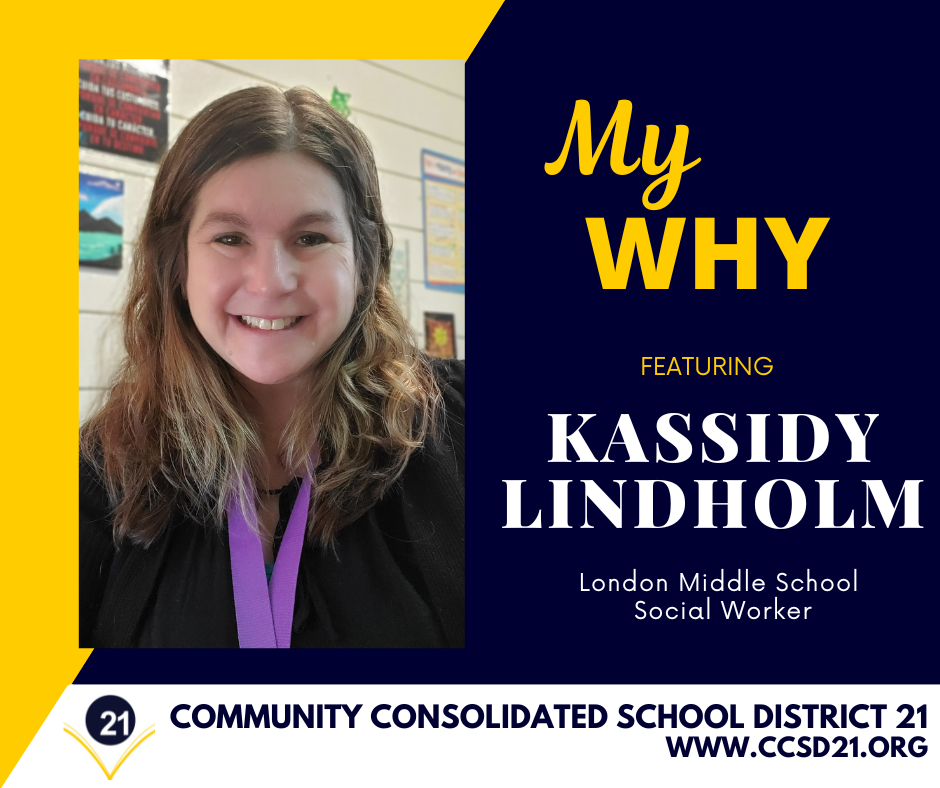 KASSIDY LINDHOLM, SOCIAL WORKER AT LONDON MIDDLE SCHOOL
Kassidy Lindholm loves to travel. In fact, she lived in Ecuador for two years after college. "I love to go to places that are very different from mine to see beyond my own life. It helps me understand others better," said Kassidy. Among her favorite places are India, Turkey and most of South and Central America. Read entire article.
Sarah Mendoza gets to experience a glimpse into the life of her students that most teachers don't see. She delights in being part of the connections that her students make at school. Sarah is a special education teacher in the Educational Life Skills Program at Riley Elementary School  where she helps students with both academic and functional life skills. Read entire article.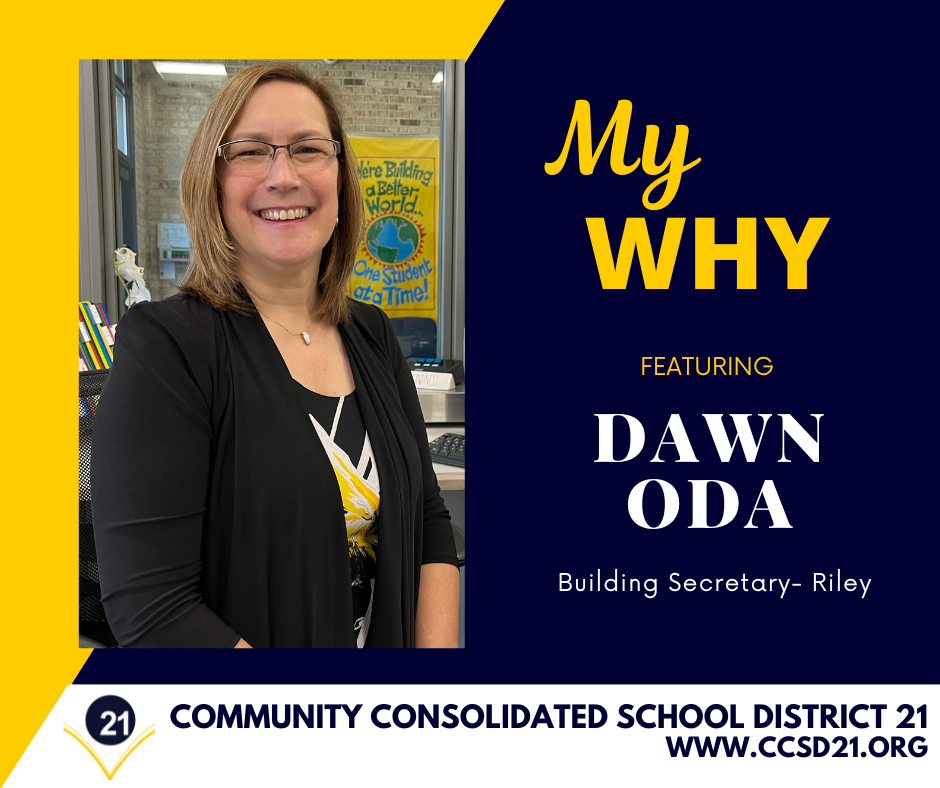 DAWN ODA, BUILDING SECRETARY AT RILEY
Dawn Oda is the first face you see when entering Riley Elementary School. She is smiley and bubbly. As the baby of a large family, Dawn had to learn to get along with others. In fact, this extrovert is the youngest of eight girls and one boy growing up in Chicago. Running around in the city with her family and friends set her up nicely for her job as the office secretary at Riley. Read entire article.
MADELINE BENNETT, SCHOOL NURSE AT KILMER
It's no surprise that Madeline Bennett turned out to be a nurse. She is the oldest of five  daughters and was the caretaker to her younger sisters. She spent a lot of her youth looking after her siblings, playing the role of mom. But Madeline also spent lots of time in the hospital, missing days of school because of severe asthma and peanut allergies. Read entire article.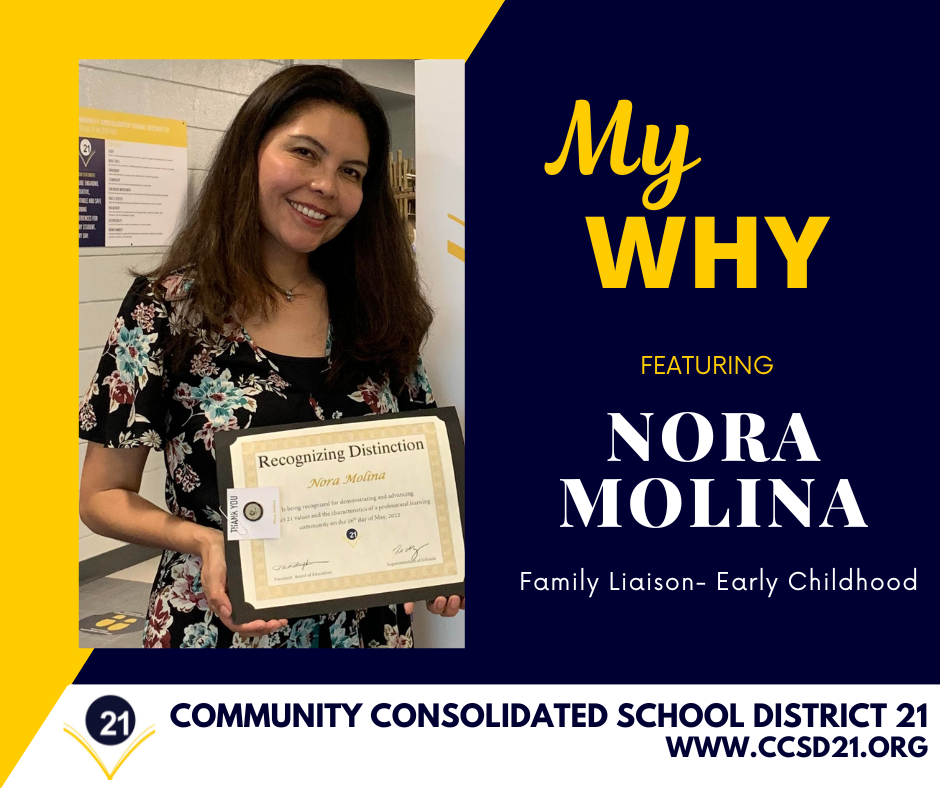 NORA MOLINA, FAMILY LIAISION FOR EARLY CHILDHOOD
Nora Molina, the family liaison for pre-kindergarten students in CCSD21, has a passion for helping people, education and traveling. She is enthusiastic and free-spirited; but her life started out in a very conservative way. She attended a strict Catholic all-girls school in Mexico City. It was a traditional institution where you didn't dream of questioning the nuns. Read entire article.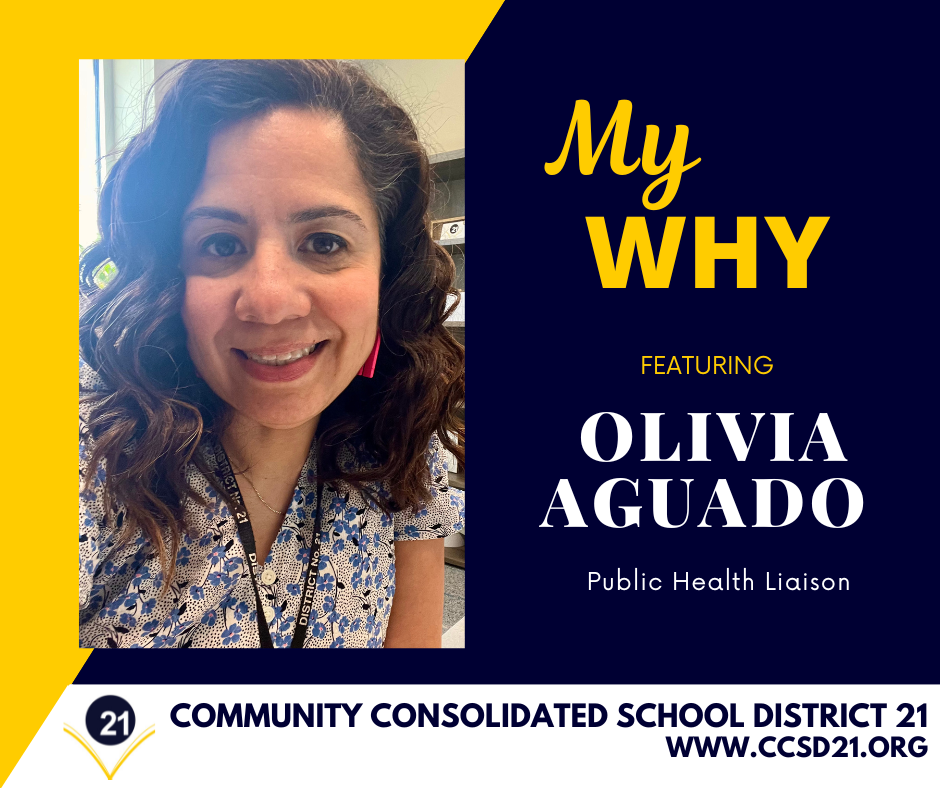 OLIVIA AGUADO, PUBLIC HEALTH LIAISON
When the AIDS epidemic was in full force, Olivia Aguado was a student at Wheeling High School and asked her counselor if she could do something to educate her peers on this deadly virus. The counselor consented and Olivia put on several informational presentations for her classmates. Read entire article.