My Why
As we start back up with the new school year, CCSD21 will be featuring a staff member each month, highlighting their background and their "Why." We hope this feature will help you get to know our staff members better and relate to their passion for being part of the D21 family.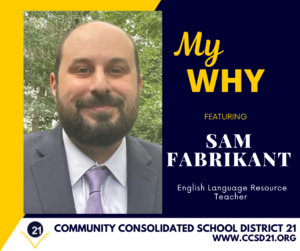 SAM FABRIKANT, ENGLISH LANGUAGE RESOURCE TEACHER
As an alumnus of Longfellow and Cooper, it's no surprise that Sam Fabrikant is back in the district, this time working as a teacher. "It's home," Sam says. "It's where I had a fantastic experience on every level and I wanted to give that same experience to others." It's also a family tradition. Read entire article.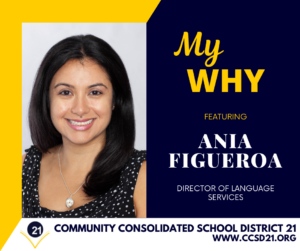 ANIA FIGUEROA, DIRECTOR LANGUAGE SERVICES
You might be surprised to learn that 52% of Community Consolidated School District 21 (CCSD21) students are considered "ELs" or English Language Learners, meaning students' main language spoken at home is something other than English. Ania Figueroa is not surprised. She is the new Director of Language Services for CCSD21 and someone who knows first-hand the need for support these students require during the school year. Read entire article.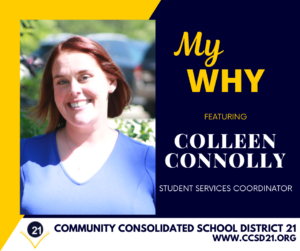 COLLEEN CONNOLLY, STUDENT SERVICES COORDINATOR
When you meet Colleen Connolly, you are immediately struck by her enthusiasm and energy for the work she does. She is a smiley, bundle of joy with an amusing sense of humor. As a student services coordinator, her wit comes in handy when dealing with students with behavior needs as it's not always easy when children are in crisis. Read entire article.