A Closer Look at STEM in CCSD21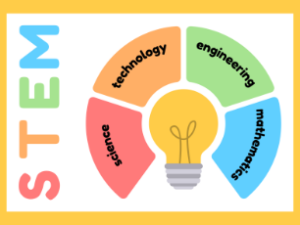 The Science, Technology, Engineering and Mathematics (S.T.E.M.) program in CCSD21  provides our students with hands-on learning with real-world opportunities. It helps students develop skills such as media and technology literacy, social skills, communication, flexibility, initiative, problem-solving, critical thinking, curiosity, decision making, as well as the acceptance of failure.
Elementary STEM
At the elementary level, students in kindergarten through 5th grade participate in STEM education every week. In addition to completing various STEM and engineering challenges, students will also learn the basics of coding, allowing them to engage in science and engineering practices at a deeper level. 
Middle School STEM
At the middle school level, our students will engage in STEM exploratory for a trimester which uses the Project Lead the Way (PLTW) Gateway curriculum. 
6th grade – Design and Modeling – Students discover the design process and develop an understanding of the influence of creativity and innovation in their lives. 

7th Grade – Flight and Space – The exciting world of aerospace comes alive for our 7th grade students through the Flight and Space unit, where students design, prototype and test models to learn about the science of flight and what it takes to travel and live in space.

8th grade – Green Architecture and App Creators – Students explore dimensioning, measuring and architectural sustainability in their Green Architecture STEM exploratory and develop solutions to authentic problems through mobile app development in their App Creators exploratory.