CCSD21, North Suburban Legal Aid Clinic team up to present tenants rights workshop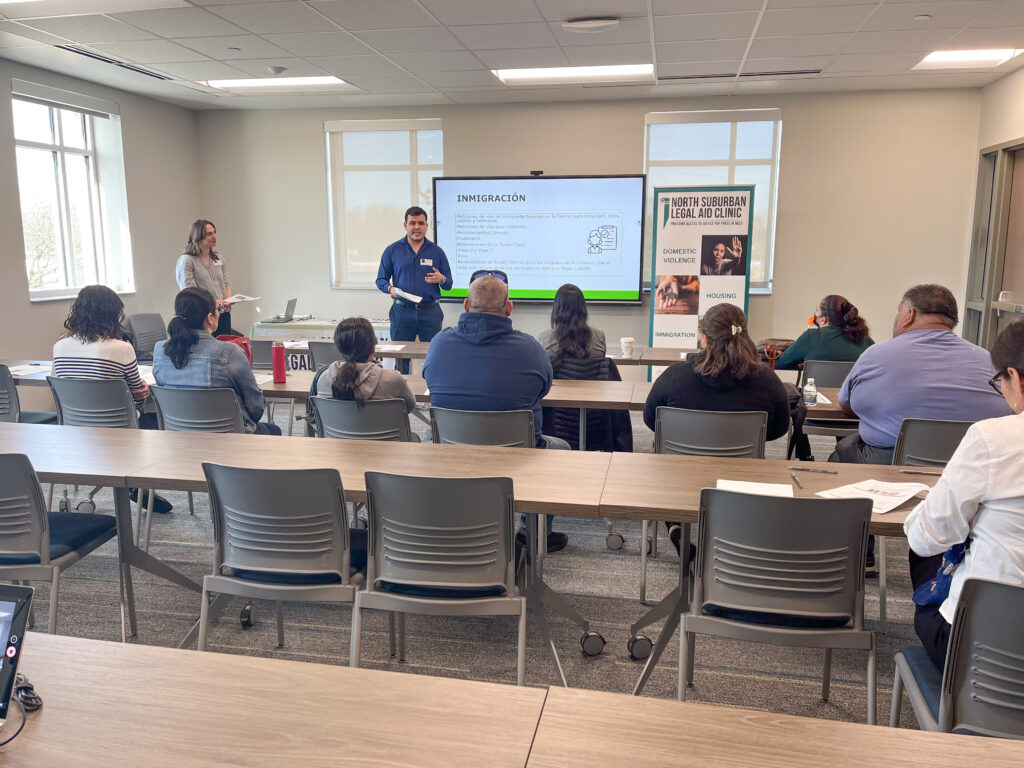 Community Consolidated School District 21, in partnership with the North Suburban Legal Aid Clinic, held two separate presentations on April 11 and 13 to teach interested parties about tenant rights, the eviction process and available rental assistance options.
This marked the first time the district held something of this nature, according to Gladys Erdmannsdoerfer, family engagement liaison: "We have so many parents who have a number of problems, and many don't know what their rights may be here."
Elizabeth Temkin and Kadir Castellanos of NSLAC presented the basics of landlord-tenant rights, dispelled common misconceptions, and offered attendees resources they need to address housing issues.
"In our communications with clients, we often hear that renters are not aware of the rights and protections they have under the law," Temkin and Castellanos said. "Our Know Your Rights workshops aim to address this gap in knowledge."
The April 11 Spanish session saw approximately 24 parents attend, which surprised Erdmannsdoerfer, as "normally we have a smaller number in the morning due to other conflicts." Nine parents attended the English portion on April 13, as did six more Hispanic parents, who listened to the recorded session from two days before.
Erdmannsdoerfer notes that the sound quality for the recorded Spanish session was substandard, so it would not be publicly available. For their next session, she hopes to improve that quality so it can become a resource for parents unable to attend.
She is hopeful, though, that this can become an annual presentation, maybe even twice a year if the need and resources are there.
"I keep hearing from parents that it was incredibly helpful to come and know a little more about the rights they could have, even if they might not have that legal immigration status," Erdmannsdoerfer said. 
Temkin and Castellanos were hopeful that each attendee could walk away feeling more knowledgeable about their rights, better equipped to navigate housing challenges, and more aware of the resources available to them.
They also urged anyone seeking further support to reach out to the clinic and they will do their best to assist them. The clinic gives renters access to lawyers able to help in a variety of housing situations, including evictions, landlord-tenant disputes, conditions/repairs, breaking a lease, rental assistance, illegal lockouts, security deposits, termination from subsidy and reasonable accommodations.
The clinic can be reached at (847) 737-4042 or [email protected].