'Day of Play' brings cardboard arcade games to Tarkington's gym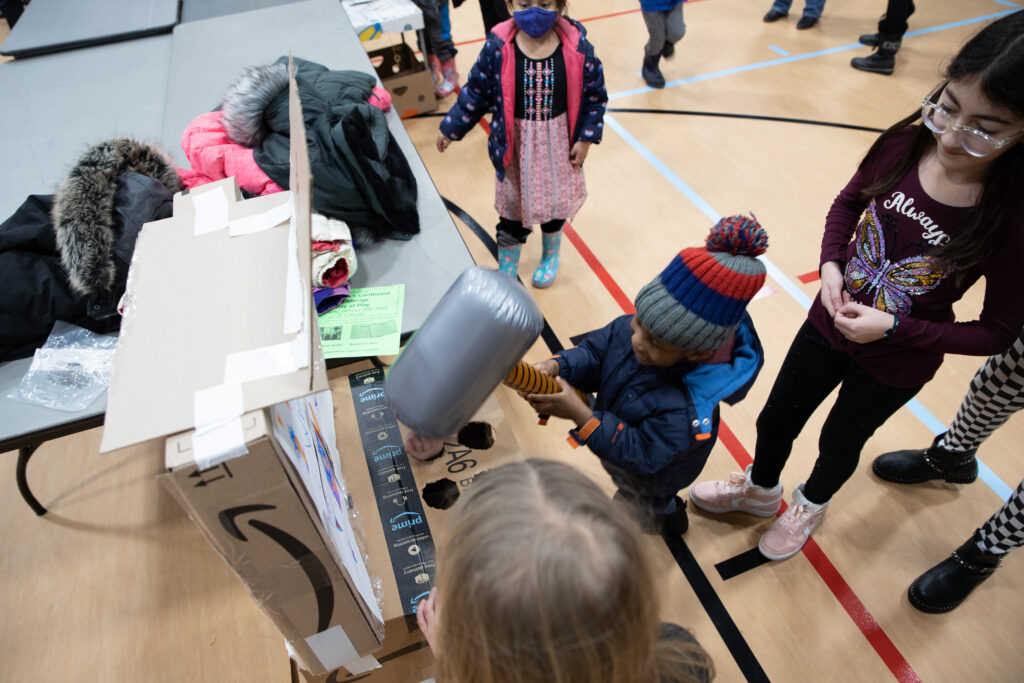 While many families tend to recycle their cardboard boxes once done, the students and families at Tarkington Elementary School have a different idea: how to turn this into a playable game.
During the evening of Thursday, Jan. 26, the more than 40 games to result from that idea populated the school's gymnasium for its "Cardboard Challenge Day of Play." Games included a Whac-A-Mole-type machine, cardboard bowling, a few inspired by Skee-Ball, a crane game, a Sonic the Hedgehog-themed labyrinth, and pinball. 
The event is based on "Caine's Arcade," a 2012 film in which a filmmaker discovers a nine-year-old's elaborate cardboard arcade inside his father's auto parts shop in Los Angeles and organizes a flash mob of customers to surprise the boy. The movement's website notes the short film "sparked a movement to foster creativity and entrepreneurship in children around the world."
Tarkington's take on the event serves as the major fundraiser for the NEU Tarkington Scholarship, which provides a $500 scholarship for a former student who is now a senior in high school and applying for higher education.
This marked the school's third time hosting its Cardboard Challenge, after it had held similar events in 2014 and 2015.
"I think at that time, we were looking for ways to raise money for the scholarship and this seemed to be a good idea since the selling of fun passes would be the way donations were given," said Ryann Rivers, information literacy and enrichment teacher at Tarkington.
The first year turned out to be a huge success, with more than $2,000 raised for the scholarship. The Helping Paws Student Service Club, which hosted the event, also managed to raise $1,732 this year, which will be enough to give three scholarships over the span of a couple of years. 
For the event itself, families can build using whatever materials they have or could find around the house. Additionally, Tarkington hosted a "Build Night" on Jan. 19, where students could come with their families and acquire materials they could then use to build their game.
Acceptable materials included cardboard of all shapes and sizes, empty clean containers, and packing and duct tapes. Students and families could also decorate their games with artwork, markers, stickers … whatever they could think up.
"Some students were so motivated by the creation of the game that they would bring bags of materials outside to recess to work on creating their game," Rivers said.
The night of the event, all participants were asked to make a donation toward the scholarship to secure their place, whether they wanted to create a game or simply attend and play. In order to play the games, fun passes and family fun passes – which are good for unlimited plays on all games for one person or up to five people, respectively – also needed to be purchased. 
While the ultimate goal was to foster creativity and enjoy a night together, some stations did award prizes – pencils, stickers, even some with candy.
Overall feedback marked the event as "fun," with Rivers noting multiple families commenting they enjoyed the creativity and engineering that goes into building a game.