Schmidt works to help district's McKinney-Vento families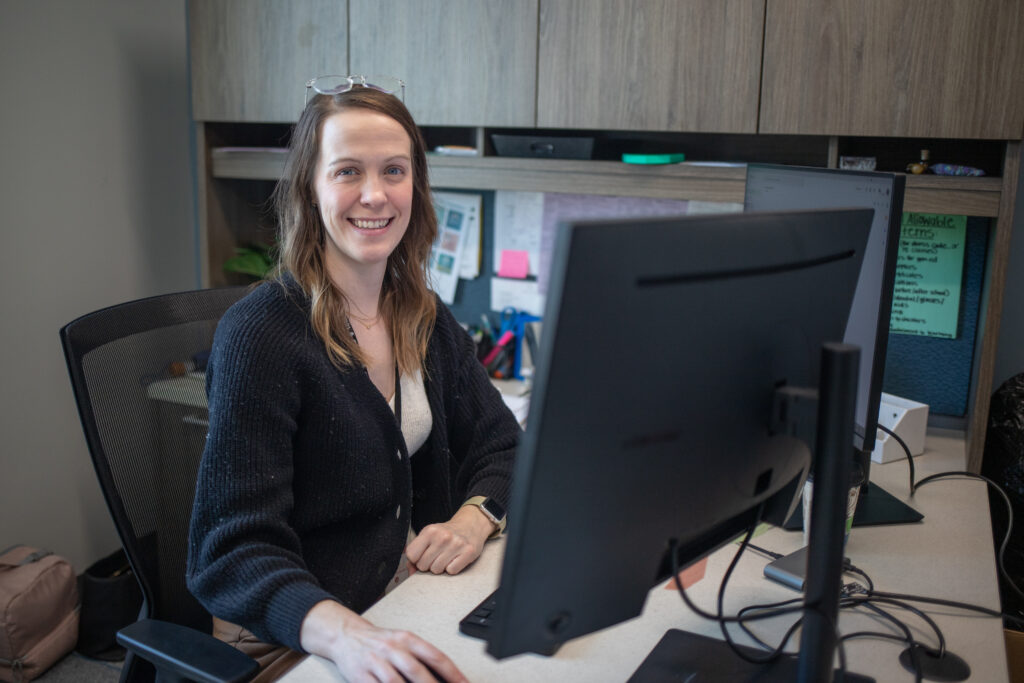 On the first floor of CCSD21's Community Service Center and Administrative Office (CSCAO) sits a corridor that a certain subset of the community regularly uses, but may rank among one of the most important resources the district offers.
Throughout the week, brown paper bags and red drawstring backpacks can be seen lining this corridor, along with the occasional pile of clothing marked "to sort." These resources all benefit the district's McKinney-Vento families, who themselves are defined as "individuals who lack a fixed, regular and adequate nighttime residence."
The McKinney–Vento Homeless Assistance Act of 1987 was the first significant legislative response to homelessness, but initially offered little protection for homeless children in the area of public education.
Among other things, the act guarantees children transportation to and from school at no cost, allows children to attend their school of origin without regard of what district the family lives in, and even requires schools to register homeless children if they lack normally required documents such as proof of residence or immunization records.
"The act allows us, as a district, to do certain things to support families with their financial strain, but also with things related to school to make sure there's equal opportunity for them, apart from the barriers that kind of get in their way that would allow them to do it," said Lauren Schmidt, the district's McKinney-Vento liaison.
One of the staples, outside of the bags and backpacks, is a community closet that shares a wall with Schmidt's office. This room gives the district a space to be able to give these families some items, such as toiletries and clothes, so they can save money that can go toward rent or other necessities.
These items are primarily donated by organizations like Good Neighbors and Fill a Heart 4 Kids, relationships that Schmidt built and cultivates, purchased using the funding allocated for the program, or donated by outside parties like churches or even donation boxes from each school.
Approximately 278 students currently qualify for the McKinney-Vento program, which Schmidt identifies by partnering with the district's family liaisons, "who are awesome."
"The four of us do a good job of finding different resources in the community and sharing them and helping each other," Schmidt adds. "They have great connections with the families."
New over the past few months, at least in a "pilot phase" so far, is the ability to offer food. The option is currently being tested on 22 families as Schmidt and the other family liaisons see what the process looks like, where the pressure points may be, and what needs to be done. Also since Schmidt has to make the hike twice a month to Lake Forest, where nonprofit Fill a Heart (which donates the food) is located, to pick up the food. The bags donated by the nonprofit generally contain more non-perishable items like cereal, Ramen, pasta, rice and beans.
"We didn't do food in years past because it's hard and just a big undertaking," Schmidt said, noting that the majority of the families currently in this pilot phase belong to the London strand. "But we're learning as we go."
While the option does not currently apply to all 278 students, Schmidt is hopeful those resources can expand to eventually cover more families. However, she does not envision turning the space next to her into a pantry due to a number of reasons, including managing various expiration dates, the lack of space, and the inevitable potential for mice or other bugs.
"The addition of food is definitely something the families are very grateful for and it's obviously an opportunity for them to save that money to put toward rent or other things," Schmidt said.
Families who benefit from these bags or backpacks are notified what time they can come in and pick them up, usually toward the end of the week, but the district has also partnered with bus drivers to deliver these resources to families without reliable transportation.
The inevitable dream, Schmidt says, is to open the closet to let these families come "shop," but the current space is a little tight to see that dream become reality, at least at the moment.
"Maybe eventually it'll be something where they can come in and pick things out," she adds. "But it's not where it needs to be right now. We need to be able to live in it a little before we introduce this feature."
In the future, especially as CCSD21 opens its planned health clinic on the first floor of the CSCAO, Schmidt notes that the McKinney-Vento funding can help families go get their physicals or acquire glasses if they need it for educational purposes. Schmidt is also hopeful that the program can grow its financial assistance avenue with families, but in general also expand, tap into more educational opportunities and continue to connect to those resources it currently struggles to find.
"As I've always said, there's a big educational component to financial literacy that we could help support," she adds, citing a workshop earlier this year about budgeting and understanding it.