WHAT'S GOING ON AT FIELD? A Welcome Display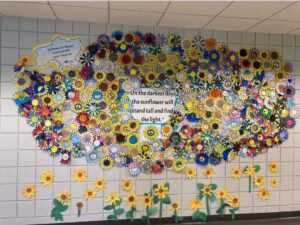 According to ancient myth, the sunflower symbolizes loyalty and adoration. And with their sun-like appearance, sunflowers are known for being a happy flower and for brightening someone's mood. It is also Ukraine's national flower as well as a major export. So when the war in Ukraine started last spring, the idea of the sunflower mural was born as a way to acknowledge the war and stand with the Ukrainian community.  Little did Field Elementary School staff and students know that within days of the mural going up, they would welcome their first student whose family recently fled the warzone.
Each student at Field was given a sunflower template to decorate as they wished. Then, the flowers were placed on the wall by the entrance of Field, creating scenery so the Ukrainian students could identify something from their homeland and feel welcome. "On the darkest days, the sunflower will stand tall and find the light," reads the sign in the middle of the mural.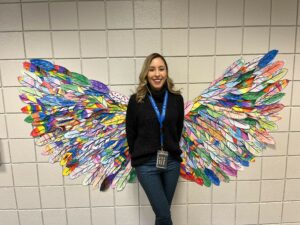 The concept was so successful that another idea blossomed: The Sunshine Club. Guided by Field teachers Amy Helms, Jill McKenna and Virna Marcotte, the club – consisting of students from all grade levels – promotes friendship, hospitality and community. Our 5th grade club members will choose an inspiring idea and swap out the mural. In September, the theme switched to teamwork and creating safe spaces for achieving success. "Flock Together; Succeed Together," reads the wall next to the colorful feathers that form a huge wingspan, big enough for falcons. And with this latest mural, our own Field Falcons find the courage to soar.