CCSD21 Together
Increased In-Person Instruction and Distance Learning Academy
At its meetings in March, the Board of Education approved a plan to increase in-person instructional time for in-person students. No changes will occur at this time for students currently enrolled in the Distance Learning Academy.
As a result of the Board's action:
In-person kindergarten-5th grade students are attending full days and full weeks of in-person instruction.
In-person 6th-8th grade students will continue with full days of in-person learning on a rotating basis: two full days at school one week, three full days at school the following week (calendar below). On Monday, April 12: All in-person students in grades 6-8 will return to full days and full weeks of in-person instruction.
SHIELD Illinois weekly COVID testing
CCSD21 has partnered with SHIELD Illinois (University of Illinois) to administer weekly saliva PCR tests to in-person students and staff beginning districtwide Tuesday, March 16. This is a non-invasive saliva test and there is no cost to families or staff for testing. Results will be available to School District 21 within 24 hours of testing and will be shared with the student's parent/guardian by email shortly thereafter. More information about SHIELD Illinois testing is available here:
Additionally, a virtual parent information night about SHIELD testing was held Monday, March 8, at 7:00 PM. The evening began with a livestream replay of the Deerfield 109 SHIELD Testing Town Hall (linked above).
The implementation of a comprehensive testing program is an important part of our effort to increase the amount of in-person learning time. For this reason, testing for in-person students will be considered mandatory unless there is a specific and valid reason that a child should be exempted. Any parent or guardian seeking an exemption to mandatory testing should contact their school principal.
Health and safety protocols
Families must submit a certification of health for every child every school day. An email reminder will be sent to the parent/guardian email address(es) on file every morning at 4:00 AM. Students showing any signs of illness may not attend school. Students will not be allowed to enter a CCSD21 building until the child's health can be verified. 
Data and metrics
The district will continue to monitor multiple sources of COVID-19 infection data and will implement adaptive pauses to in-person instruction at the classroom, school, or district level as conditions require.
Sources include data from the Cook County Department of Public Health and the Illinois Department of Public Health, as well as the COVID-19 Dashboard maintained by the Northwestern Medicine's Surgical Outcomes and Quality Improvement Center. In addition we are tracking our internal data on the CCSD21 COVID-19 Data Dashboard.
Mitigation of spread
Per joint guidance from the Illinois State Board of Education and Illinois Department of Public Health, as well as guidance from the Centers for Disease Control (CDC), the minimum distance in effect in classrooms is 3 feet. A minimum 6 feet of social distancing is still required while in active physical education, at lunch, and recess.
CCSD21 will still consider the use of an Adaptive Pause at the classroom, school, or district levels if COVID-19 spread in the community reaches such a significant level and/or if an order to return to remote learning is issued by the Governor, Illinois State Board of Education, or state or county public health officials. Any decision to return to an adaptive pause will be made with a solid understanding of trending data, including current rates of exclusion or confirmed cases within our schools, and with as much advance notice given to families as possible. Please continue to consider your family's contingency plan should a close contact occur, or should closure occur at the classroom, school, or District level.
MIDDLE SCHOOL Hybrid In-Person Learning Teams
Middle school students will maintain their in-person learning team assignments and attend school in person for full days: two days one week, three days the following week, until CCSD21 is able to accommodate all in-person middle school students on site. In-person middle school students will transition to full days and full weeks (five days per week) of in-person instruction on Monday, April 12.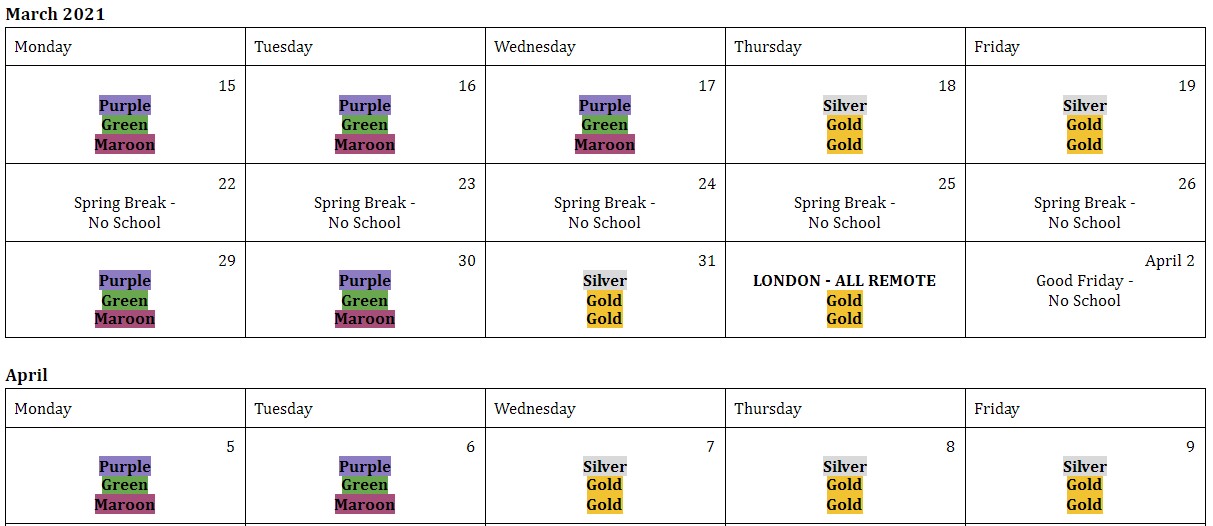 *click the image above to view a larger calendar
Family Resources
The site linked above offers resources to support students during the 2020-2021 school year: instructional and health/safety expectations, technology tutorials and troubleshooting, and more.
Additional Resources
Questions
Frequently Asked Questions about CCSD21's plan for the 2020-2021 school year are answered within this document. Please continue to reference this document as information will be updated regularly.
Please direct any other questions or concerns to [email protected].
Archived materials
2020-2021 school year plans
CCSD21's hybrid in-person learning plan, outlined below, went into effect on October 5, 2020:
CCSD21 began the 2020-2021 school year with full-time distance learning for all students. View the plan:
CCSD21 initially planned to welcome all students back in person to begin the school year. However, guidance and data at that time could not allow the District to safely move forward.
Distance Learning Academy or home/assigned school enrollment
For the duration of the 2020-2021 school year, School District 21 is maintaining a full-time Distance Learning Academy. Parents received a detailed explanation (explanation image) on July 31 about the Distance Learning Academy, remote instruction for all students, and the resumption of in-person learning. Families elected in August to enroll their child(ren) in the Distance Learning Academy or in remote learning with their home/assigned school. 
Supporting documents